The Beauty Of New Zealand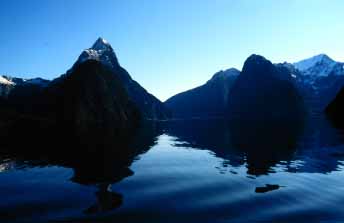 The view of the Mitre Peak
During my stay in the Nordic countries, ignorant of the rest of the world, I was proud and quietly satisfied when told that the Nordic countries had, in its landscapes, a little of the best of all other countries. Especially when I was in the Lofoten, which is situated in the North of Norway, I believed that no landscapes would be more than a match for those of Lofoten (though I still believe that the Lofoten is one of the most beautiful place in the world...).
Later I was forced to acknowledge that there were mountain ranges grander than Norway's, forests as verdant as the Lapland's. I came to believe that the sounds in New Zealand were a match for Norway's fiords, the mountains in New Zealand for Switzerland's alps; that I visited countryside as beautiful as any part of the rural Sweden; that the plains were as open and dramatic as those of the Austrian Salzkammergut region. What other country has both thermal regions and glaciers ?
New Zealand has greater variety in its landscapes than almost any other country and, perhaps more importantly, quite differnt landscapes and environments are remarkably close together and easily accessible from the country's largest cities. I can leave the city in the morning and by lunchtime be walking in the native forest as beautiful and profoundly peaceful as the forest in Lapland....
New Zealand may not be quite the unique country; but it is a special place, of great variety and beauty.Discover these islands with me....